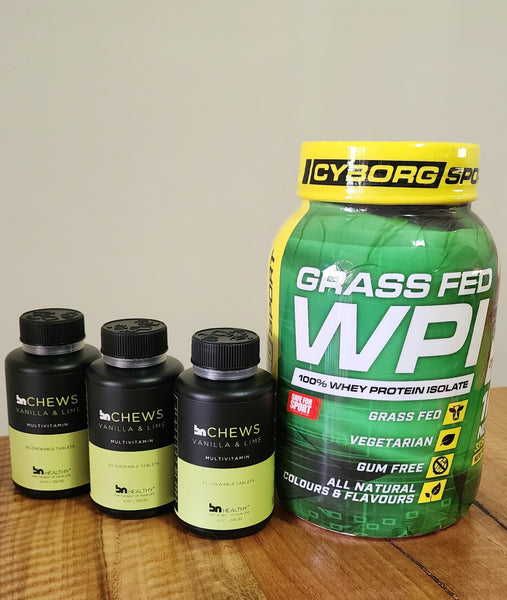 3 Months BN Chewable Multivitamins + 1kg Cyborg WPI Milkshake Protein Powder
Taking your bariatric multivitamins and meeting your protein needs is essential after weight loss surgery. This pack contains 3 bottles of BN Chewable Multivitamins and 1 tub of Cyborg Collagen Protein Powder.
BN Chewable Multivitamins come in an orange or vanilla lime flavour and provides an extensive range of vitamins, minerals. You will need 2 chewable tablets per day or as advised by your surgical team. Chew tablet completely after a meal. Each chewable tablet contains:
Betacarotene 2.3mg
Vitamin A 375mcg RE
Vitamin C 60mg
Vitamin D 12.5mcg/500IU
Vitamin E 12.4mg
Thiamine ( Vit B1) 5mg
Riboflavin (Vit B2) 5mg
Niacin (Vit B3) 25mg
Vitamin B5 5mg
Vitamin B6 5mg
Folate 250mcg
Cyanocobalamin (Vitamin B12) 125mcg
Mecobalamin/Co-Methylcobalamin (Vitamin B12) 125 mcg
Vitamin B5 5mg
Biotin 150mcg
Inositol 10mg
Total Calcium (carbonate: 250mg, citrate; 50mg) 300.42mg
Magnesium (as heavy magnesium oxide) 52.5 mg
Iron (ferrous fumate) 9mg
Zinc (as amino acid chelate) 7.5 mg
Selenium 30mcg
Copper (as cupric citrate hemipentahydrate) 375 mcg
Manganese (as amino acid chelate) 1mg
Total chromium (as chromic chloride hexahydrate 35mg, as picolinate: 25mg) 60 mcg
Molybdenum (as molybdenum trioxide) 37.5mcg
Choline bitartrate 2.5 mg
Iodine (as potassium iodide) 75mcg
 Cyborg Grass Fed Milkshake WPI Protein powder can help you boost your protein intake. It's ideal for those struggling to reach their protein targets or have increased protein needs e.g. post bariatric surgery or in those who exercise hard e.g. doing resistance weights training or intense sports / fitness training.
Enhanced WPI is the King of Proteins. High quality protein with no fat and no carbs.
* 25g Protein Per Serve
* Zero Fat and Carb Per Serve
* 100% Whey Isolate
* Delicious Flavour and Easy Mixing
* Assists in maintaining muscle mass