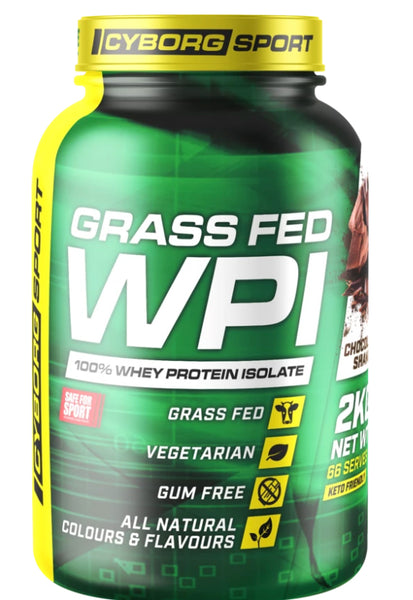 Cyborg Grass Fed WPI Milkshake Protein Powder - Various Flavours
Regular price
Sale price
$72.99
---
Cyborg Grass Fed Milkshake WPI Protein powder can help you boost your protein intake. It's ideal for those struggling to reach their protein targets or have increased protein needs e.g. post bariatric surgery or in those who exercise hard e.g. doing resistance weights training or intense sports / fitness training.
Enhanced WPI is the King of Proteins. High quality protein with no fat and no carbs.
* 25g Protein Per Serve
* Zero Fat and Carb Per Serve
* 100% Whey Isolate
* Delicious Flavour and Easy Mixing
* Assists in maintaining muscle mass

This product comes in 2 sized packs (1kg or 2kg) and 5 great flavours including:
Caramel Sundae

Chocolate Honeycomb

Chocolate

Vanilla Ice cream

Iced Coffee
More about this product:
This delicious and unique product takes the highest-grade protein available and supercharges it with the most important amino acids for muscle growth, Branch Chain Amino Acids (BCAA). This powerful combination has been specifically created to meet the demands of those with higher protein needs, elite athletes and those wanting a lean, muscular physique. 
Whey Protein Isolate (WPI)
WPI is unmatched among whey protein supplements for building lean muscle tissue. It has the most protein and lowest fat and carbohydrate content of any whey. WPI has also demonstrated benefits associated with fat loss that further increases positive physique changes.
Branch Chain Amino Acids (BCAA)
BCAA's are the most important amino acids within protein. By adding extra free form BCAA's we have amplified the WPI allowing your body to utilize the protein more effectively resulting in even greater lean muscle growth and reduced recovery time and soreness.  BCAA's are the rate limiting amino acids which means your body cannot utilize the rest of the protein without sufficient BCAA.  By using BCAA Enhanced WPI you can be sure you are getting the most out of your scoop of protein.
---