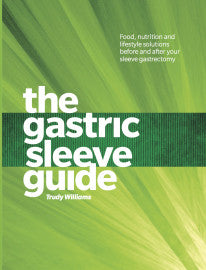 The Gastric Sleeve Guide
The Gastric Sleeve Guide: food, nutrition and lifestyle solutions before and after your sleeve gastrectomy is the next addition to FoodTalk's publications. It is written by Trudy Williams in consultation with dietitians, surgeons and the real life experiences of people with a sleeve from Australia and elsewhere in the world.
This guide is crammed full of a stack of information that is very specific to the gastric sleeve.
This book recognises that the gastric sleeve is very, very different to other surgeries for obesity care. It is different to other books in the market place that combine the various obesity surgeries together. Trudy knows how important it is for you to get clear information about the surgery you are having done -- sleeve surgery -- rather than unnecessary, mixed-up information about different surgeries.