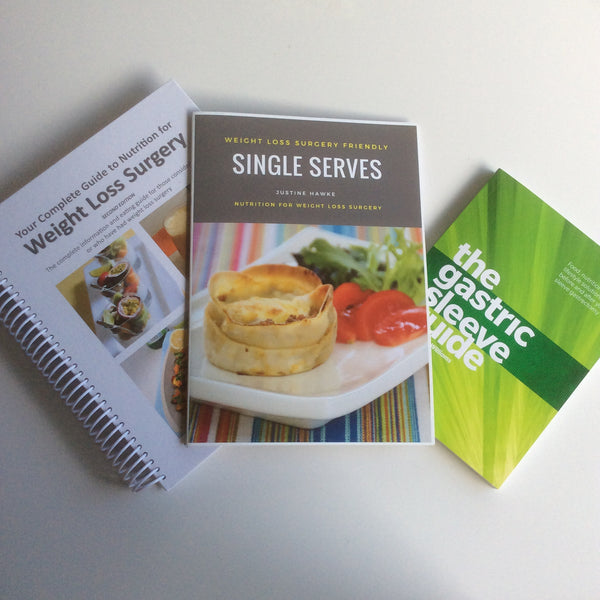 Basic Sleevers Bariatric Book Pack 2
Are you someone who is having or have had gastric sleeve weight loss surgery and likes to read and learn more about their surgery, nutrition and health? Or do you know someone who is having the surgery and want to give them a gift that is relevant and especially useful?
Then this basic book pack is for you! It contains 3 great resources, designed to provide the information you need to learn about your sleeve surgery, the challenges you may encounter as well as information on nutrition, eating tips and meal plans as well as recipes. This pack includes the following fantastic books, click each to link to more information on that particular book:
Your Complete Guide to Nutrition for Weight Loss Surgery - This is a fantastic all rounder guide to eating during the pre and post surgery stages of the sleeve, bypass and lapband surgery. Not only does it provide essential information for each stage but also meal plans and delicious recipes.

The Gastric Sleeve Guide - This is an essential guide to everything you need to know about your gastric sleeve when it comes to weight, things to expect along the journey, food, nutrition, eating habits and lifestyle. It's a must have!

Weight Loss Surgery Friendly Single Serves Recipe Book: 

This little book contains 24 delicious recipes including meat balls, frittatas, egg muffins, meatloaves and more. These can be stored in the fridge or frozen and are a great idea for quick lunches or dinners that everyone will love or you can take to work.